MetroMax Q™ Polymer Shelving
MetroMax Q™ Polymer Shelving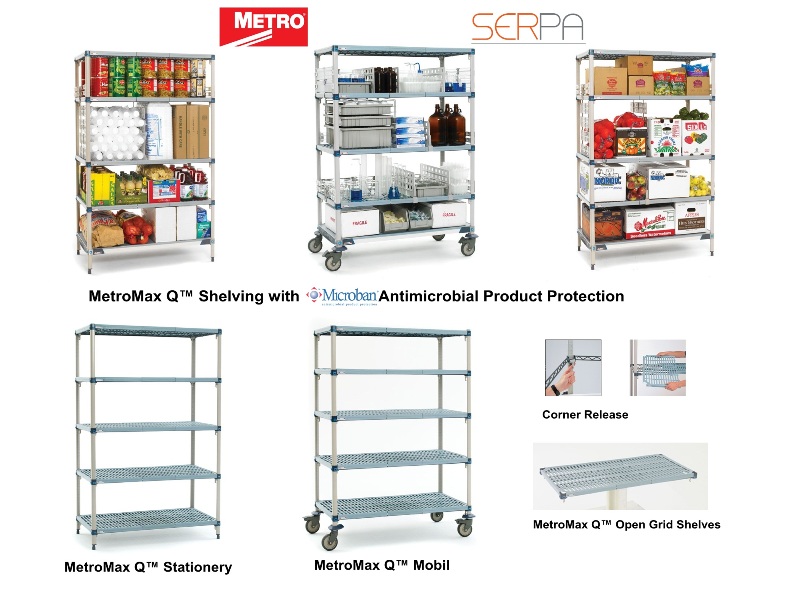 MetroMax Q™ Shelving with *Microban Antimicrobial Product Protection is part of the innovative MetroMax iQ™ Storage System . MetroMax Q™ is a longer life storage solution than conventional wire shelving. The product offers durable polymer mats that remove for easy cleaning and protect stored items from damage.This system has durable, corrosion proof polymer mats protect the shelves from normal wear and tear. Robust epoxy coated steel frames and posts hold as much weight as Metro's wire shelving. Weight capacity for evenly distributed loads: 800 lbs. (363kg) per shelf for lengths of 24" to 48" (610 to 1220mm) 600 lbs. (275kg) per shelf for lengths of 54" (1370mm) or longer 2,000 lbs. (907kg) maximum per stationary unit. MetroMax Q and MetroMax i™ shelves, posts, and most accessories are compatible on the same unit.Polymer mats can be easily removed and cleaned in a sink or dish machine. Microban antimicrobial product protection is built into the high contact areas of the shelf including the mats, frames, and posts to protect the product from bacteria, mold, mildew, and fungus that cause odors and product degradation. Microban protection keeps the product "cleaner between cleanings.Patented corner release allows shelves to be unlocked without tools. Simply flip each corner release, relocate the wedge connectors on the posts, and reposition the shelf.MetroMax Q is available with open grid mats as standard. Open grid shelves promote air circulation and light penetration.MetroMax Q assembles easily in minutes, without tools. Shelves can be adjusted at 1" (25mm) increments along the post. Shelf wedges have a window to locate your desired position.SPECIFICATIONS: • Shelf frames and posts: Steel with electroplated substrate and highly durable, abrasion-resistant epoxy finish. Epoxy finish has built-in Microban antimicrobial product protection. The adjustable foot is reinforced nylon. • Shelf Mats: Injection molded polypropylene with exclusive built-in Microban® antimicrobial product protection. • Shelf Wedge Connector: Reinforced nylon. • Temperature range: -20°F (-29°C) to 125°F (52°C) continuous use, with intermittent exposure to 200°F (93°C) for cleaning.
MetroMax Q™ Polymer Shelving Accessories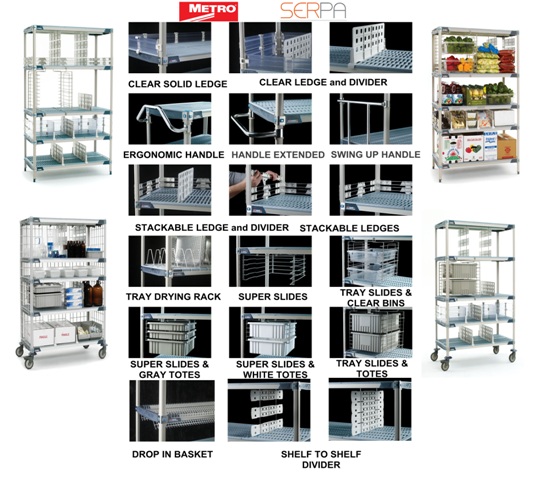 Premium MetroMax iQ™ accessories efficiently organize, contain, and compartmentalize all space between shelvesSome of the accessories and their specifications are as follows; POLYMER DIVIDERS are easily repositioned to separate and contain loose products. FLEXIBLE SLIDE SYSTEMS fit a variety of trays, pans, and containers. Store more vertically with easy access to food product. ERGONOMIC HANDLES like the swing up model (pictured) enable easy maneuvering of MetroMax i™ and Q transport carts throughout a facility or campus. CASTERS enable fully loaded units to easily move for transport or for improved access to walls and hard-to-reach areas of the floor in support of good cleaning practices. Casters or Dollies can also be used to create transport carts. Consider casters with polymer horns for improved durability in wet areas and controlled environments. STACKABLE LEDGES prevent items from falling off shelves in stationary or mobile applications. SHELF-TO-SHELF DIVIDERS fully compartmentalize the space between two shelves. Use on the interior or the ends of the shelf to manage hard-to-handle items including vacuum sealed products and other bagged or loose items. TRAY DRYING RACK accessories allow superior air circulation for fast safe drying of pots, pans, trays, containers, and lids. Promotes food safety. SOLID SHELF MATS contain leaks and spills and are ideal for use on the bottom shelf to protect supplies from dirt or mops.